Addictions, Drug & Alcohol Institute
WA State Syringe Exchange Health Survey, 2019 Results
Caleb Banta-Green, PhD, MPH, MSW; Alison Newman, MPH; Susan Kingston; Sara Glick, PhD, MPH; Joe Tinsley; Sarah Deutsch, MPH.
Published April 2020.
Download printable PDF of this report.
Key Findings
More respondents had used methamphetamine than had used heroin in the past three months (78% versus 72%) and in the past week (84% versus 78%). However, high frequency use of heroin (5-7 days in the past week) was more common than high frequency use of methamphetamine (59% versus 49%).
The majority (82%) of people who reported using heroin as their main drug were interested in reducing or stopping their opioid use.
About half (48%) of people who reported using methamphetamine as their main drug were interested in reducing or stopping their stimulant use.
Interest in treatment for hepatitis C (HCV) was high. About two thirds (68%) of those diagnosed with HCV were interested in HCV treatment among those who remained untreated.
Naloxone ownership has increased substantially among people who use opioids with 79% of respondents in King County and 78% outside of King County reporting they had owned a naloxone kit in the last 3 months, compared to 47% and 24% respectively in 2015.
Survey Overview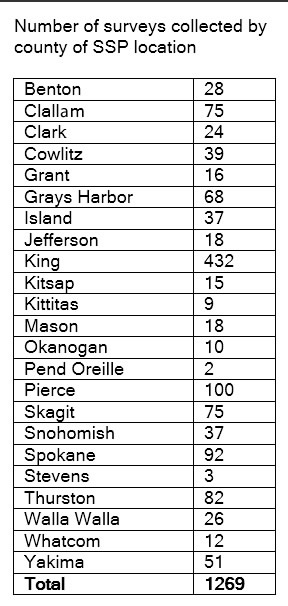 Since 2015, the University of Washington's Addictions, Drug & Alcohol Institute (formerly the Alcohol & Drug Abuse Institute) has collaborated with Public Health-Seattle & King County (PHSKC) and the statewide network of syringe services programs (SSP) to conduct the biennial WA State Syringe Exchange Health Survey to profile health behaviors and health care needs, access, and preferences of people who inject drugs (PWID) in WA State (see past survey results here: 2017 report, 2015 report).
In 2019 there were over 30 fixed site and/or mobile outreach SSPs operating in WA State through local health departments, community-based organizations, grassroots volunteer groups, or tribal entities. A complete list can be found here (WA State Dept of Health). A description of SSP operational models in WA State can be found here: Overview of Syringe Exchange Programs in WA State.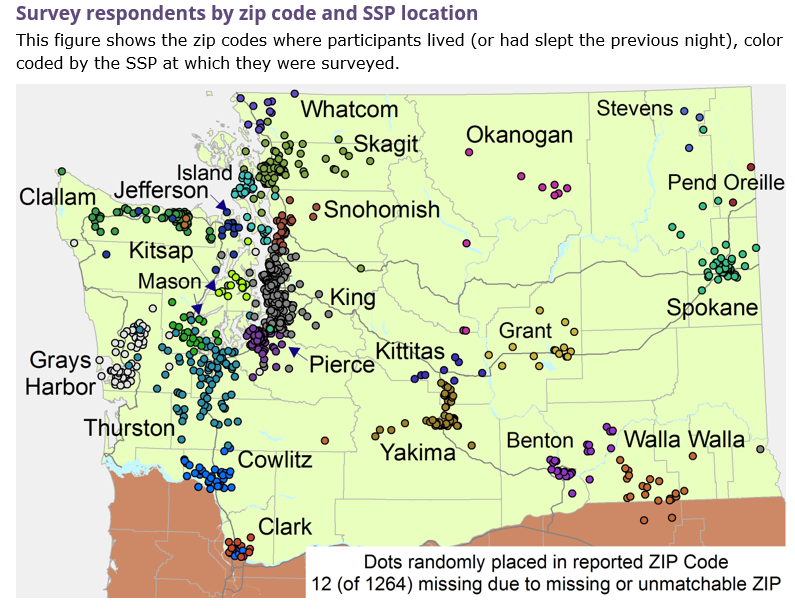 SSP staff and volunteers administer the voluntary, face-to-face questionnaire to individuals who come in for syringe exchange services.
The survey explores topics such as:
Client demographics.
Drug use and injection practices.
Utilization of syringe exchange and other health care services.
Prevalence of opioid overdose, overdose risks, and naloxone.
Prevalence of acute physical and psychiatric consequences of methamphetamine use.
Interest in reducing or stopping drug use.
Interest in specific services to help reduce or stop drug use.
PHSKC uses a slightly modified version of the survey at its SSP sites to accommodate data needs particular to King County; therefore, some data presented do not include responses from King County.
Twenty-one organizations participated in the project and collectively completed surveys from 1,269 syringe services program participants across 23 counties.
Survey Results
This report was produced with financial support from the Washington State Health Care Authority, Division of Behavioral Health and Recovery.
Citation: Banta-Green, C., et al. Washington State Syringe Exchange Health Survey: 2019 Results. Seattle: ADAI, University of Washington, April 2020. https://adai.uw.edu/wa-state-syringe-exchange-health-survey-2019-results/
Thank you to everyone who worked with us on this survey, including: syringe exchange participants who shared their experiences and responded to the survey; syringe exchange program staff and volunteers who hosted ADAI staff and/or administered the survey; staff at ADAI and PHSKC who helped with analysis and report and web page development; and the Washington Health Care Authority's Division of Behavioral Health and Recovery for continuing to fund the Center for Drug Safety and Services Education which oversaw the survey work.