Addictions, Drug & Alcohol Institute
New from ADAI: Most US Adults Who Use Cannabis Also Use Other Substances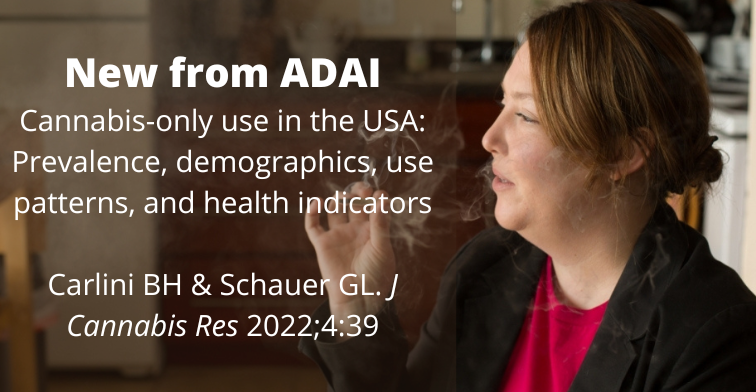 This new article, coauthored by ADAI Research Scientists Beatriz Carlini, PhD, MPH and Gillian Schauer, PhD, MPH, reports on one of the first studies to explore the prevalence of adults in the U.S. who use cannabis while abstaining from other substances.
Using data from adults aged 18 or older who responded to the 2017 or 2018 National Survey on Drug Use and Health, Drs. Carlini and Schauer looked for respondents in the survey who reported having used cannabis in the past 30 days, but didn't report use of any other substances, including alcohol, tobacco, other illicit substances, or non-prescribed controlled medications.
Here are some of the interesting things they learned:
Of adults who reported having used cannabis in the past 30 days, only 8.4% reported ONLY using cannabis. This was most commonly true for adults under the age of 50.
Cannabis dependence was lowest among those who only used cannabis and were aged 50 or older, and highest among young adults who used both cannabis and other substances.
Rates of mental illness were generally the same across all groups.
Conclusions: Most adults who use cannabis also use other substances (tobacco, alcohol, other drugs). Young adults and adults who have attended college are more likely to report cannabis-only use. Research to continue to assess interactions that cannabis use has with other substance use is important, particularly because some adults report using cannabis to try to reduce or stop their use of other substances.
Citation: Carlini BH & Schauer GL. Cannabis-only use in the USA: Prevalence, demographics, use patterns, and health indicators. Journal of Cannabis Research 2022;4:39.