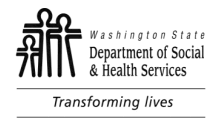 Research indicates that remaining in substance use disorder (SUD) treatment for at least 90 days has a direct correlation with positive outcomes, including a reduction in substance use and criminal justice involvement. Longer involvement in treatment also increases the likelihood of employment, increased earnings and housing stability.
As partners in Governor Jay Inslee's Results Washington, the Washington State Department of Social and Health Service's Division of Behavioral Health & Recovery (DBHR) is committed to working with Behavioral Health Organizations (BHOs) and their providers to improve outpatient substance use disorder treatment retention in support of the Results Washington Goal 4: Healthy and Safe Communities.
The Division's goal is to increase the percentage of clients retained in outpatient substance use disorder treatment for at least 90 days from 67% to 70.7% in adult programs and 71% to 73.8% in adolescent programs by July 2017.
One effort on the part of DBHR to support this goal has been partnering with the University of Washington's Alcohol and Drug Abuse Institute (ADAI) in creating this interactive toolkit of strategies to improve engagement and retention in outpatient settings. The toolkit is intended to be easy to use, and includes resources that individual providers, other staff who interact with clients, or entire organizations may select as most appropriate for their needs.

We extend special thanks to the developers of the NIATx website, which provided much of the Toolkit's content.  We also thank substance use disorder treatment program providers and other staff who participated in the statewide survey in September, 2014. 
Finally, we thank Patti Karvel and Shelli Young of Snohomish County Human Services AOD for sharing the "Wheel of Success," and Anthony Floyd of the Alcohol & Drug Abuse Institute for narration in the "Talking with Clients" module.
Sandra M. Radin, PhD
Meg Brunner, MLIS
Jennifer Velotta, MNPL, CDP, CPP
Nancy Sutherland, MLS


Lindy Blankenship
Michael Langer
Amanda Lewis


In September 2014, 201 providers and other staff who interact with clients in outpatient substance use disorder (SUD) treatment programs participated in an online survey to inform the development of this Retention Toolkit. Nineteen closed- and open-ended questions inquired about participant characteristics, and client engagement and retention training, practices, and needs. Topics included: feedback regarding client attendance, appointment scheduling and reminders, use of TARGET, client incentives, use of online resources such as NIATx, family involvement, barriers, and needed support. To read more about the survey and see the results, click here.
DBHR Memo from Michael Langer, Office Chief, about this project (December 17, 2014; pdf)
Results Washington Goal 4: Healthy and Safe Communities -- This provides a look at Goal Area Four of the Results Washington initiative, where retention in substance use disorder treatment is addressed.
DSHS Outcome Measures for Results Washington (September 2017; pdf) -- This supplemental report includes the goals, data being measured, and action to obtain the goal. NEW!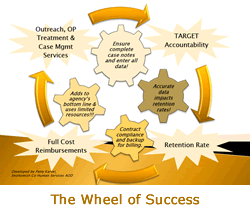 Statewide Summary of Outpatient Retention Goals for 2015 (by County) -- From DBHR.
Client Retention Definition -- Explains the contract language for "retention," as well as performance goals, results, actions, and review.
Substance Use Disorder Treatment "Wheel of Success" -- Developed by Patty Karvel and Shelli Young of Snohomish County Human Services Administration, this training tool illustrates the connections between Outreach, Outpatient Treatment and Case Management Services; Utilization of TARGET and Reports; Client Retention Rates; and Full Cost Reimbursement. Each "gear" in the wheel relates to all the others, making the whole wheel turn smoothly (or not), illustrating the concept that success results from coordinated effort.
-- 24 hour help line providing crisis intervention and referral services for substance abuse, problem gambling, and mental health. Also includes a "Career Center" with a job and resume board for behavioral health professionals and students. Call 866-789-1511.
-- This page from NIATx offers six clear steps in evaluating the impact of a change on your organization's goals.