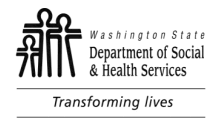 The WSU Social and Economic Sciences Research Center (SESRC) worked collaboratively with the Division of Behavioral Health and Recovery (DBHR) to conduct the 2017 Behavioral Health Provider Survey.
The statewide survey of behavioral health agencies was open to behavioral health treatment agencies who provide DBHR-certified, publicly-funded mental health and substance use disorder treatment services. The aim was to collect current information regarding services and clinical staff to help identify opportunities for improve the quality of behavioral health treatment services in Washington State.
358 out of the 550 eligible behavioral health treatment providers in Washington State completed the survey online, giving a response rate of 65%.
Services Provided

Recovery Support Services Offered

Cultural Competency

Culturally Responsive Services

Ways Providers Try to Improve Retention and Outcomes

Approaches to Achieving Client Transition to Another Level of Care

Strategies for Assessing Client Perception of Quality of Care

Education and Employement-Based Recovery Support Offered

Recovery Support for Clients Experiencing Homelessness