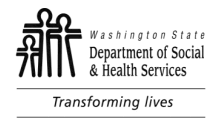 In September 2014, 201 providers and other staff who interact with clients in outpatient substance use disorder (SUD) treatment programs participated in an online survey to inform the development of DBHR's SUD treatment program client retention toolkit.
The survey, Client Engagement and Retention in Outpatient Substance Use Disorder Treatment Programs, included 19 closed and open-ended questions inquired about participant characteristics, and client engagement and retention training, practices, and needs.  Topics included: feedback regarding client attendance, appointment scheduling and reminders, use of TARGET, client incentives, use of online resources such as NIATx, family involvement, barriers, needed support.
Many of the findings from this survey are highlighted in boxes at the top of relevant sections of the toolkit website, such as the pages about Family, Motivational Interviewing, and Incentives.
Here are some additional points that are not included elsewhere in the toolkit:
48% of participants were counselors or direct treatment providers, 28% were supervisors or managers, and 12% were other staff persons who interact with clients.
Three quarters identified as female, one quarter as male.
Urban programs comprised 42% of the sample, 30% rural, and 25% suburban.
68% receive ongoing client retention/engagement training; 15% reported no formal training.
Training formats reported (in order): staff meeting discussion, workshop or other formal presentation, paper handouts, online training.  24% reported they have received none of these.
60% receive a report or feedback about client attendance, 19% do not.
57% reported that providers and other staff schedule client appointments. 20% reported providers only schedule, 21% reported other staff only schedule.
52% reported phone calls are used to remind clients of appointments.  20% reported that clients do not receive reminders.
All of the information shared through the survey was helpful in developing the retention toolkit.  In particular, here were "tips" for providers or other staff for encouraging client participation and program attendance, from the most frequently suggested tip to the least frequent:
Empathetic therapeutic relationship (nurture rapport, trust, respect, cultural competency),
Appointments (regular follow-ups and reminders, contact no-shows immediately, same day/time for appointments to help clients make it a habit),
Incentives (build on small successes),
Motivational Interviewing,
Provide assistance/services for multiple needs (case management),
Engage clients in their own treatment (personalize Tx, educate on how it works, let client know they are important to success of whole group, etc.),
Family involvement,
Encourage clients to be accountable (to selves, families, clinicians, POs/courts, etc.),
More staff (to increase available individual and group sessions),
More structure/consistency in program; enforce rules consistently,
Transportation assistance (parking, bus passes, rides),
Community activities (groups participate or just encouraging individuals to),
Appropriate referral (only admit those right for program),
Welcoming physical spaces,
More/better staff/supervisor training,
Use EBPs,
Provide child care,
Legitimize harm reduction,
Therapeutic response to relapse, not punitive,
Combine TARGET and mental health systems.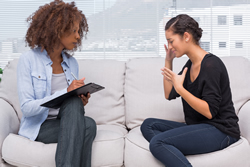 "Always offer the client dignity and respect."
"The client is the expert on themselves and we as providers need to treat them with respect.  Listen, get them involved. Remember that small changes are big changes in the life of an addict, build on small successes."
"Most clients need to feel that they are getting something out of attending (at first). Once trust is built, and they understand that you are on their side, then attendance will usually increase and become stable. Sometimes you need to go to the client instead of the client coming to you."
"Stay positive, solution focused, acknowledge and give attention to positive changes and while acknowledging negatives, remain positive and strength-based. Use motivational interviewing and make sure that the patient knows that the counselor has no benefit from the patient's success or failure. Partner with the patient in such a way that when the patient succeeds, the counselor is pleased along with the patient, and when the patient fails, the counselor is disappointed along with the patient. Have strong personal boundaries to join with the patient, without taking any ownership, good or bad, away from the patient. Focus on recovery beyond sobriety."
"Case management, sending contact letters, phone calls and involving collaborating sources if releases are signed. Meet clients where they are at. Informal client contact in building and on grounds (clinicians walk through lobbies and smoking areas to get feedback from clients)."
"By allowing people to miss groups/appointments without consequence, I believe it diminishes their importance. As we struggle to retain people in the program and keep those who only attend intermittently, it sends the wrong message to those who DO attend. Just my opinion. If they miss 2 or 3 consecutive groups, perhaps they need to attend an individual session with counselor prior to being allowed back into the group."
"Make them feel like their treatment is an important part of their recovery as well as the other group members' recovery. Your groups are only as strong as the interaction of the group and their participation."