Here are the top 10 most reported barriers from highest to lowest (with the # of times each was reported):
Transportation (114)
Lack of safe/sober housing; homelessness (40)
Childcare (32)
Lack of funding (25) (funding for treatment/co-pays, not eligible for insurance)
Lack of motivation (24)
Co-Occurring disorders (19)
Employment/school commitments; scheduling challenges (19)
Lack of family support (15)
Clients lack life skills to schedule and attend multiple appointments; need reminders (11)
Lack of services (wait times, staff shortage/large case loads, timeliness of appointments) (8)
[more about the survey]
Many individuals who experience substance use disorders and could benefit from treatment do not receive care.
According to SAMHSA's National Survey on Drug Use and Health (NSDUH)1, in 2013, 7.6 million individuals aged 12 years or older (2.9% of Americans 12+) needed treatment for an illicit drug use problem, and 18 million individuals aged 12 or older (6.9% of Americans 12+) needed treatment for an alcohol problem. However, only 1.5 million for drugs and 1.4 million for alcohol received treatment at a specialty facility like a hospital (inpatient only), drug or alcohol rehabilitation facility, or mental health center.
That's just 19.5% of persons who needed treatment for drug use disorders and 7.9% who needed treatment for alcohol use disorders actually receiving that care.
In other words: .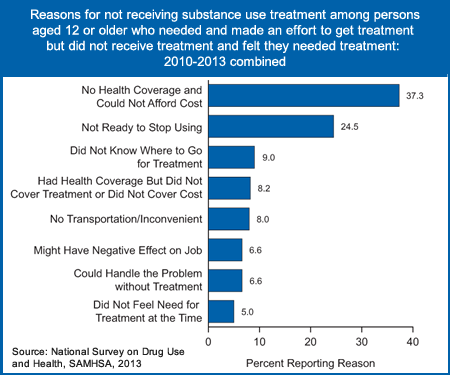 to continuing in treatment may help clients solve problems and continue when personal or family issues arise.
involved with starting and staying in treatment, including: transportation, childcare, ability to pay, translation needs, other appointments, the criminal justice system, and work schedules.

Axis 1 in Barnwell, SC worked with their to change their scheduling policies to make them more customer-friendly. They also worked with the county to find ways to pay for vehicles that the staff used to transport clients. They now have two vehicles to transport patients to and from treatment. For more information, see the case study and their change bulletin (on the NIATx site).

The Center for Human Services in Seattle, WA decreased no-show rates from 80% to 65% and increased admissions by 87% by performing assessments at the Community Service Office (the referrer) one day a week instead of requiring all assessments be done at their facility. For more information, see the CHS story (on the NIATx site).


NIATx Resources on Eliminating Barriers to Treatment
Includes stories about successful implementation at real treatment agencies, lessons learned, tracking measures, action steps, and more.
Community Health Centers and First Responders: Strengthening Communities through Education
This Recovery Month webcast, which launched on June 7, 2017, will address the behavioral health needs relevant for rural and frontier communities, share innovative approaches to addressing them in remote areas, and review the challenges faced when attempting to reduce the treatment gap for rural and frontier residents. It will also address the special considerations of Native American/American Indian communities living in rural areas.
Recovery Among Diverse Populations


Recovery Month Webcast, September 2017, Explores best practices and methods for overcoming barriers to connect clients with culturally responsive treatment and recovery services.
TAP 33: Systems-Level Implementation of Screening, Brief Intervention, and Referral to Treatment (SBIRT)
Substance Abuse and Mental Health Services Administration (SAMHSA) Technical Assistance Publication Series, May 2013, about SBIRT services implementation, covering challenges, barriers, cost, and sustainability.

Substance Abuse and Mental Health Services Administration. Results from the 2013 National Survey on Drug Use and Health: Summary of national finding. September 2014. [free online]