Addictions, Drug & Alcohol Institute
Webinar Series on Overdose from WA Poison Center, Aug 23-Sep 3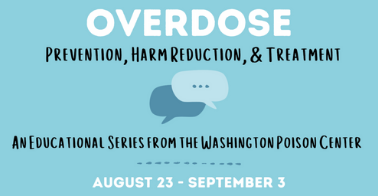 This upcoming 2-week series of webinars from the Washington Poison Center will cover a range of subjects related to overdose, including a session from ADAI health educator Alison Newman on opioids and stimulants in Washington State.
The goal of the series, timed at the end of the month to coincide with International Overdose Awareness Day (August 31), is to open dialogue, de-stigmatize, and ensure everyone is aware of the help available in our communities.
Topics include:
how to think and talk about substance use disorders without stigmatizing others,
safe medicine storage and disposal,
the economics of substance use,
how to recognize an overdose and respond with naloxone,
recent trends for opioid use,
adolescent exposure to opioids,
withdrawal,
fentanyl,
medications for treatment of opioid use disorder,
and much more!
Find the complete agenda and links to register for each session here.