Addictions, Drug & Alcohol Institute
Webinar October 27: Attitudes & Stigma Around Addiction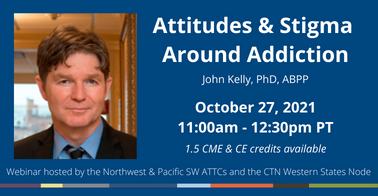 Join the Northwest ATTC (based at ADAI), the Pacific Southwest ATTC, and the Western States Node of the NIDA Clinical Trials Network on October 27, 2021 (11:00am – 12:30pm) for their latest joint webinar: Attitudes & Stigma Around Addiction.
In this session, John Kelly, PhD, ABPP of Harvard University will discuss the fundamental causes of stigma and discrimination in relation to substance use disorder, review some of the paradoxical findings from the latest stigma research, and suggest how stigma and discrimination might be more systematically addressed to enhance the clinical care and outcomes of individuals suffering from substance use disorder.
Learning Objectives:
Identify two (2) major factors which underlie and contribute to addiction stigma.
Explain three (3) effective strategies for addressing stigma.
Determine optimal terminology to reduce stigma in at least two (2) clinical and policy communication areas.
1.5 CME or CE credits available. AMA PRA Category 1 Credits(TM); PSY (APA); RN (CA BRN); LMFT, LCSW, LPCC, LEP (CAMFT); RADT I/II, CADC-CAS, CADC I/II, CADC-CS, LAADC (CCAPP); CATC (ACCBC/CAADE); CAODC (CADTP). More information about these credits available in the flyer.