Addictions, Drug & Alcohol Institute
Webinar June 10: Questions and Answers from Patients About Psychedelics for SUDs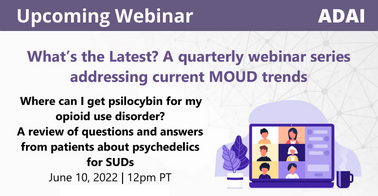 Where Can I Get Psilocybin for My Opioid Use Disorder? A Review of Questions and Answers from Patients About Psychedelics for SUDs
June 10, 2022 | 12:00-1:00pm PT
This session is the third in ADAI's quarterly "What's the Latest" series addressing medications for opioid use disorder.
Presented by Mark Duncan, MD, this installment will focus on the current state of evidence surrounding the use of psychedelics like psilocybin, LSD, MDMA, and ketamine/esketamine for substance use disorder (SUD) and how to address when patients ask if this is right for them.
Who should attend: This series' intended audience is anyone in Washington State treating people
with OUD. Examples of individuals and organizations to invite are providers, care managers,
navigators, SUDPs, pharmacists, administrators, those in the criminal legal system, FQHCs, health
systems, BHAs, SUD programs, OTPs, SSPs, EDs, Inpatient, and anyone else you would like to attend.
Find other webinars in this series on the LearnAboutTreatment.org website. (A recording of this session will be added there later as well.)