The Alcohol & Drug Abuse Institute
Webinar, Jan 19: Methamphetamine: Practical Strategies for Harm Reduction and Client Engagement
January 19, 2021 | 1:00-2:00pm PST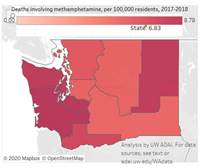 Methamphetamine use and methamphetamine-involved deaths are increasing in Washington State. This webinar will review current WA State data on methamphetamine use and offer practical strategies to work more effectively with individuals who use methamphetamine, including how to:
Understand motivations and patterns of use and how methamphetamine affects behavior
Have stigma-free conversations that build trust
Work with challenging behaviors like paranoia, self-harm, and, risk-taking
Promote harm reduction approaches to improve health and reduce deaths
This webinar is intended for anyone in Washington State working with clients or patients who use methamphetamine, especially staff of syringe services program staff, housing providers, and other
community-based organizations.
Speakers
Please send any questions to Alison Newman, alison26@uw.edu, or Susan Kingston, kingst1@uw.edu.