Addictions, Drug & Alcohol Institute
Virtual Event: Addressing Substance Use Disorder – The Path Forward (Oct. 12)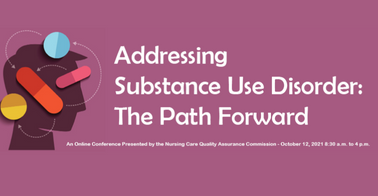 October 12, 2021, 8:30am-4pm PT
Tickets: $35-50
Purchase tickets here
This one-day informative and educational virtual conference is being hosted by the Washington State Nursing Care Quality Assurance Commission (NCQAC) and will feature presentations from ADAI Principal Research Scientist Caleb Banta-Green, PhD, Dr. Saundra Jain, MA, PsyD, LPC of the University of Texas at Austin, and Dr. John Kelly, PhD, ABPP of Harvard University.
You'll learn about:
Overcoming stigma, shifting from exclusion and blame toward support and compassion
Trends in providing access to treatment
Integrated care and the use of medications for treatment
The growing use of peer support services
In addition, presentations focused on Caring for the Caregiver will address personal recovery and resilience, health promotion and self-care.
6 Continuing Education hours will be offered with attendance.