Addictions, Drug & Alcohol Institute
Transforming Our Communities: Sharing Innovations to Reduce Harms for People Who Use Drugs: June 7-8, 2022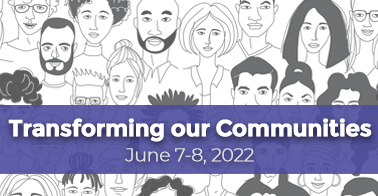 Registration is open for our 3rd annual Transforming Our Communities Gathering, June 7-8, 2022, 8:30am -12:30pm PT.
This 2-day virtual event aims to bring a wide range of participants together to understand the perspectives of people who use drugs, understand the importance of equitable access to care and services, build partnerships and connect people within their communities, and brainstorm new and fresh ideas.
The event is collaboratively planned with a diverse, compassionate group of individuals including those with lived/living experience. Presentations and discussions will be interactive.
Themes for this year's event:
Autonomy: people have the right to choose what works best for them.
Partnering: how we can bring people in closer and walk next to each other
Change: how norms, policies, and practices are evolving
We'll be specifically focused on:
Policy: how it can be informed by people with lived/living experience
Adolescents & young adults: substance use disorder/opioid use disorder
Changing routes of ingestion: impact on harm reduction services & engagement
Interesting in checking out recordings and materials from previous years' events? Check out the Transforming Our Communities website.