Addictions, Drug & Alcohol Institute
The Fentanyl Crisis: How to Keep Loved Ones Safe (Sept 13, Gonzaga U., Spokane)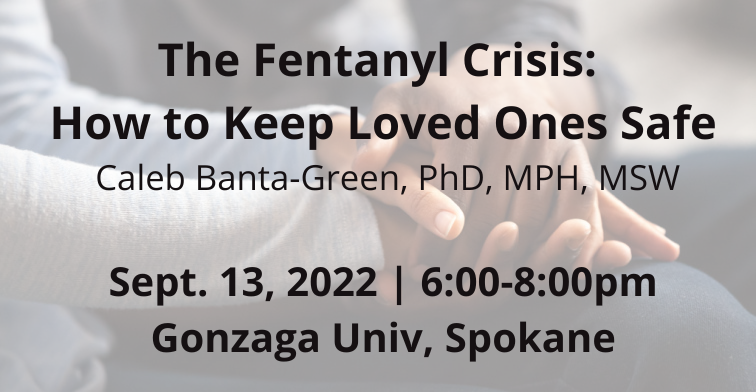 September 13, 2022, 6-8pm PT
Ballroom, John J. Hemmingson Center, Gonzaga University, Spokane, WA
This event is being recorded — if you register and can't attend, you'll be sent a link to access the recording.
Drug overdose deaths have reached record highs in the U.S., among teens and adults. One drug that is 50 times stronger than heroin and roughly 100 times stronger than morphine is largely responsible: illicitly made fentanyl. What is fentanyl? Why has it become so popular? Why is fentanyl such a deadly drug? How can we protect our loved ones and better support the health of our communities?
Dr. Caleb Banta-Green, Acting Professor at the UW Addictions, Drug & Alcohol Institute (ADAI), Psychiatry and Behavioral Health Sciences and Director of the UW Center for Community-Engaged Drug Education, Epidemiology and Research (CEDEER), will discuss the answers to these questions and more at this in-person event at Gonzaga University, September 13, 6:00pm-8:00pm PT (Ballroom, John J. Hemmingson Center).
Dr. Banta-Green is an executive sponsor of Washington State's Opioid Overdose Response Plan and served as a science advisor on overdose response to the director of the White House drug policy office.
A Q&A will follow Dr. Banta-Green's presentation. He will be joined by Kelli Hawkins, PIO, Spokane County Regional Health District, Caleb Holtzer, MD, MPH, a family physician from Providence Health & Services, Chewelah, WA, and Amy Burns, MD, in psychiatry at Providence Sacred Heart, Spokane, WA, to discuss illicit fentanyl use in the Spokane area.