Addictions, Drug & Alcohol Institute
Results from the 2021 WA State Syringe Service Program Health Survey
The biennial WA State Syringe Service Program Health Survey is the state's primary source of data on the substance use patterns, health behaviors, and health care needs of people who use drugs and utilize syringe service programs (SSPs). The University of Washington's Addictions, Drug & Alcohol Institute (ADAI) conducts the survey in collaboration with Public Health-Seattle & King County (PHSKC) and the statewide SSP network.
The results of the survey provide important findings for those planning state and local services and policies, especially around fentanyl use and interest in safer smoking supplies.
This year's survey included responses from 955 SSP participants at 21 organizations in 20 counties.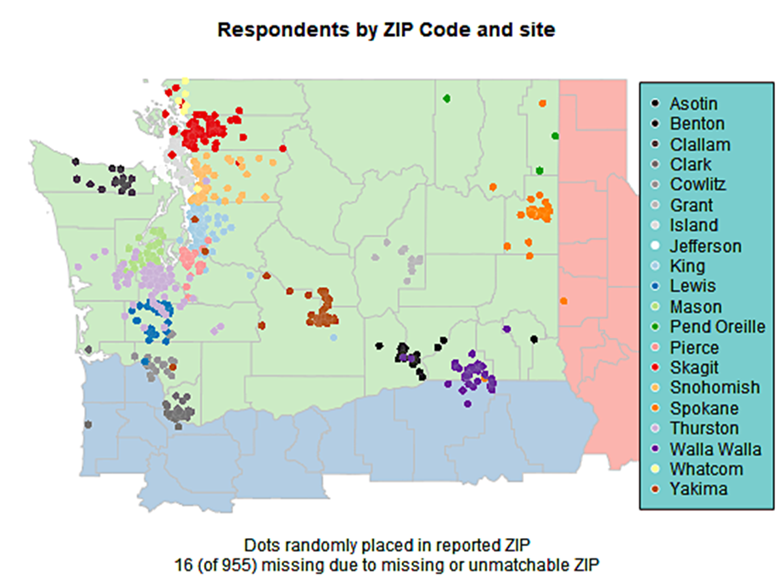 Key Findings
More respondents had used methamphetamine by itself than heroin by itself (86% versus 69%), yet almost half (48%) had used both mixed together (as a "goofball"). Goofball was the third most common "main" drug (21%), after heroin (41%) and methamphetamine (29%).
Polysubstance use was particularly high among those whose main drug was goofballs or fentanyl.
Almost half (42%) reported using fentanyl in the past three months. Two thirds of these respondents said they had last used fentanyl "on purpose." Most often that fentanyl was in pill form. The remaining third reported the fentanyl they used, unintentionally, was most often mixed in with another drug.
Form of last fentanyl used

Those who had used fentanyl in the past three months were more likely to have had an opioid overdose in the past 12 months than those who had not used fentanyl (27% vs 20%, p<0.05).
Rates of drug smoking were high. About three in four respondents who had injected any drug in the past three months also reported smoking a drug in the same period. Rates of drug injecting and smoking varied widely by drug type.
Route of ingestion of drug used in past 3 months

The majority (72%) of respondents who had injected a drug in the past three months said they would like to get safer drug smoking supplies. Of those, about two thirds (64%) thought they would inject less often if they could get safer smoking supplies.
COVID-19 vaccination rates were generally low (37% statewide) but varied by county. A quarter of people expressed interest or ambivalence in getting vaccinated.
Acknowledgements
ADAI would like to thank the many SSP staff and volunteers who helped administer this survey and the SSP participants who agreed to be surveyed. We also gratefully acknowledge our partners at Public Health – Seattle & King County and the WA State Department of Health's Drug User Health Team for their contributions and the Washington State Division of Behavioral Health and Recovery for its funding support.
Citation: Kingston S, Newman A, Banta-Green C. Results from the 2021 WA State Syringe Service Program Health Survey. Seattle, WA: Addictions, Drug & Alcohol Institute, Department of Psychiatry & Behavioral Sciences, University of Washington, February 2022.
Related Resources: