Addictions, Drug & Alcohol Institute
September is National Recovery Month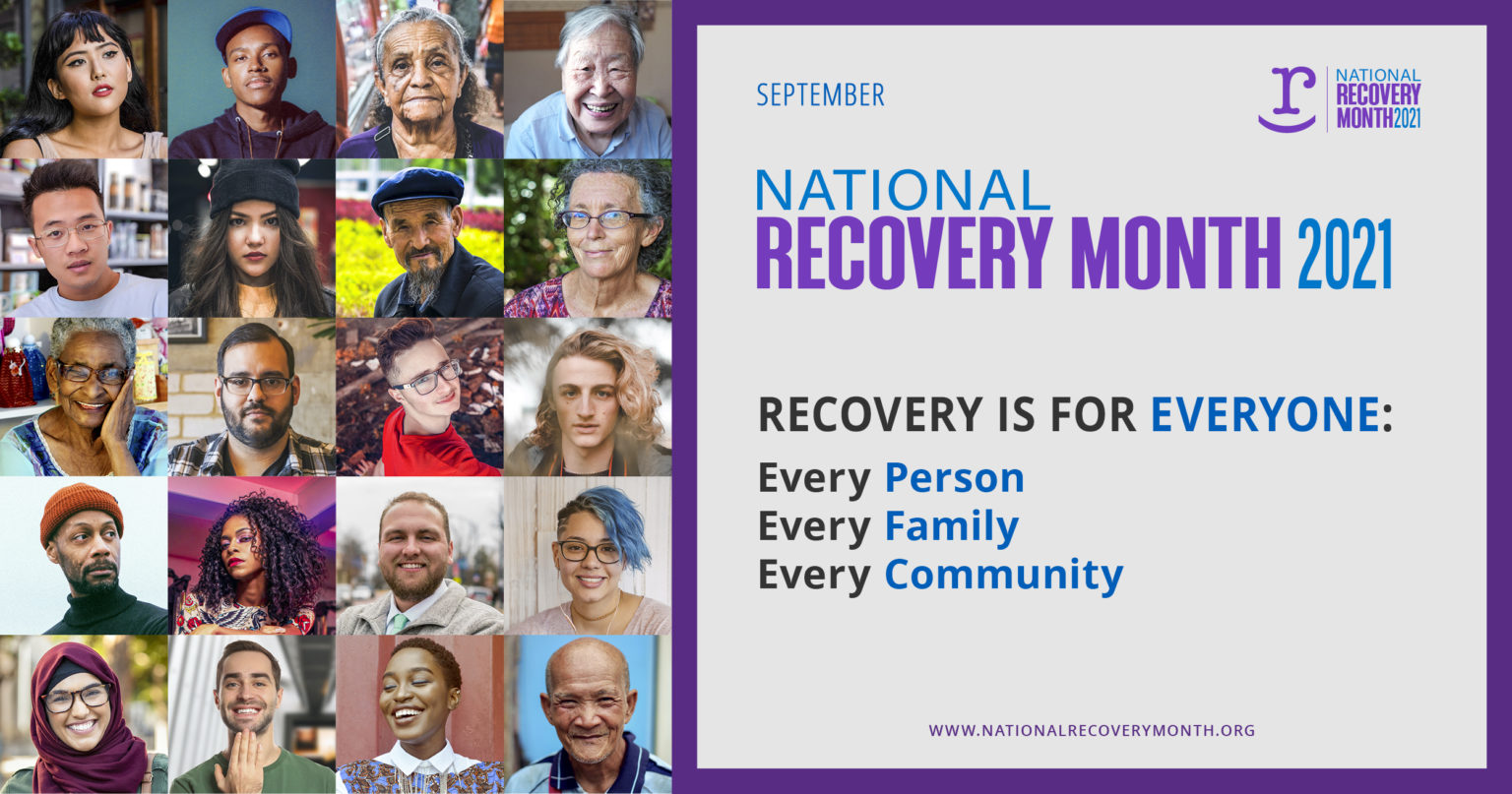 Each September, National Recovery Month works to promote and support new evidence-based treatment and recovery practices, the emergence of a strong and proud recovery community, and the dedication of service providers and community members across the nation who make recovery in all its forms possible.
The 2021 National Recovery Month theme, "Recovery is for Everyone: Every Person, Every Family, Every Community" reminds people in recovery and those who support them that recovery belongs to all of us. We are all called to end gatekeeping and welcome everyone to recovery by lowering barriers to recovery support, creating inclusive spaces and programs, and broadening our understanding of what recovery means for people with different experiences.
National Addiction Professionals Day, established by NAADAC, will be celebrated on September 20, 2021, as part of National Recovery Month.
Related Resources
Washington State Recovery Month Events
Do you know of any Washington State Recovery Month events? Email meganw@uw.edu to have them added here!
Pierce County Recovery Walk, September 11 from 9-10:30am at Wright Park in Tacoma, will be a celebration of recovery and a way to speak out and end the stigma that surrounds substance use disorder and mental health challenges. This will be a 5K walk that follows the trail through the park.
Recovery Day at the Mariners, Sunday, September 12 — this event has been cancelled because of COVID concerns.
Benton-Franklin Recovery Celebration Fair September 18 (12-4pm). This event will be held at John Dam Plaza in Richland, WA and will include speakers, food, bouncy houses, raffles, information, and more. A link for virtual attendees will be added to this calendar soon.
Hands Across the Bridge 2021, September 26 at 11am in Wenatchee, is sponsored by Central Washington Recovery Coalition and will provide development in the recovery community, give a voice to people that speak out on recovery related issues, and help you learn new and exciting ways to advocate for treatment, prevention, and harm reduction throughout Central Washington.
Speak Out for Recovery, September 28, 5:30-7:00pm (virtual), sponsored by King County, the Washington Recovery Alliance, the King County Recovery Coalition, the Northwest ATTC, and the Recovery Cafe Network, will feature speakers from across the state nominated by their Recovery Coalition to share their Recovery Story. Various recovery resources will also be presented, and the winner of this year's King County Recovery Month Poetry and Poster contest will be announced.