Addictions, Drug & Alcohol Institute
New ADAI Report: Overdose Deaths Involving Prescription Opioids in WA, 2010-2021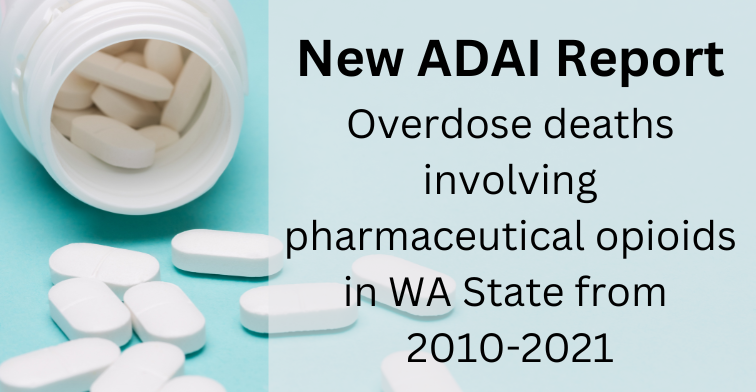 This new report by Caleb Banta-Green, PhD, MPH, MSW and Jason Williams, PhD of the ADAI Center for Community-Engaged Drug Education, Epidemiology & Research (CEDEER) examines key indicators related to pharmaceutical opioids including sales data and overdose death rates.
Key Points
Prescription opioid overdose deaths declined from their peak in 2006, but are higher than 1999-2001.
Most recent prescription opioid overdose deaths also involved illicit opioids.
Prescription opioid sales have declined since 2011, but are overall unchanged in comparison to 1999-2001.
Clinical Takeaways:
Diverse providers should offer naloxone to patients and clients who use opioids and non-judgmentally educate:
people with prescriptions about the potential risks of poisoning with opioids.
people who may be misusing opioids or have opioid use disorder about effective treatments and harm reduction services.
Citation: Banta-Green C, Williams J. Overdose Deaths Involving Pharmaceutical Opioids in Washington State from 2010-2021. Seattle, WA: Addictions, Drug & Alcohol Institute, Department of Psychiatry & Behavioral Sciences, School of Medicine, University of Washington, November 2022. URL: https://adai.uw.edu/download/7346/