Addictions, Drug & Alcohol Institute
Opioid Overdose Brochure Now Available in 23 Languages!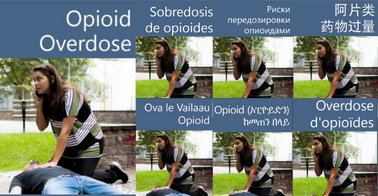 StopOverdose.org, a project with ADAI's Center for Community-Engaged Drug Education, Epidemiology, and Research (CEDEER), offers a range of resources focused on preventing deaths from overdose.
One of their most-used materials is their Opioid Overdose brochure, which provides information about opioids, overdose risks, and what to do if someone is overdosing. The brochure was originally only available in English and Spanish.
Thanks to a partnership with King County DCHS-BHRD, the brochure is now available in 23 total languages: English, Amharic, Arabic, Chinese, Farsi, French, Hindi, Japanese, Khmer, K'iche, Korean, Lao,  Marshallese, Oromo, Punjabi, Russian, Samoan, Somali, Spanish, Tagalog, Tigrinya, Ukrainian, and Vietnamese. Find all 23 versions here.
Funding for this work came through the WA HCA. To request hard copies of any of StopOverdose.org's brochures or materials, please visit the ADAI Clearinghouse.