Addictions, Drug & Alcohol Institute
New ADAI Report: Dramatic Increases in Opioid Overdose Deaths Due to Fentanyl Among Young People in WA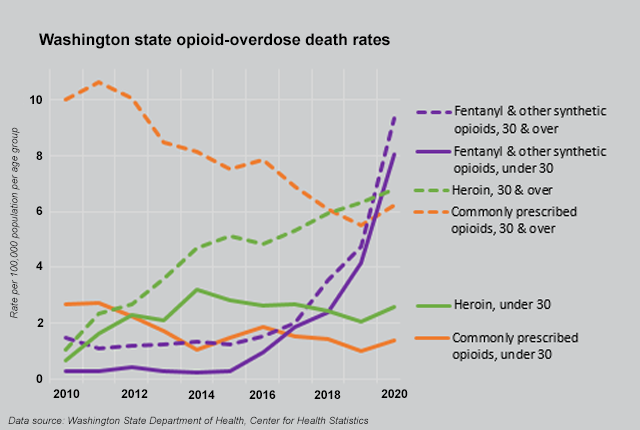 Use of illicitly manufactured fentanyl has had an outsized impact on overdose deaths in Washington State, according to a new report from ADAI/UW Psychiatry research scientists Caleb Banta-Green and Jason Williams.
Fentanyl use and overdose deaths appear to mostly affect these populations:
young adults inexperienced with opioid use
young adults with rapid onset opioid use disorder (addiction)
older adults with ongoing opioid use disorder
Among people under 30, fentanyl-involved deaths started climbing statewide in 2016. By 2019, it had surpassed other opioid categories of deaths among that age group, at the rate of 4 per 100,000. By 2020, fentanyl-involved deaths had doubled to 8 per 100,000 among people under 30.
"The data are stunning," Banta-Green said. "Historically, deaths involving heroin and prescription opiates were big deals, but the fentanyl trends are even worse. What is profoundly different is the years of life lost among people who overdose at age 20 or 25, in contrast with people who are 45 or 50."
The report ends with suggestions and helpful resources for ways to address the urgent consequences of fentanyl use, especially among youth and younger adults:
Learn from youth in their own words about their use of fentanyl and the services they use to reduce harms. These videos from our recent Transforming Our Communities event are a good place to start.
Reduce harms and overdoses – harm reduction programs offer a wide array of education, supplies, onsite healthcare and/or referral and linkage to services. Learn how to recognize an overdose and use naloxone to reverse it. Find out more at StopOverdose.org.
Help individuals access treatment for opioid use disorder – there are very effective treatments that can help people manage OUD and gain more control of their lives. Find out more at LearnAboutTreatment.org and Understanding and Supporting Adolescents with an Opioid Use Disorder (pdf) from ADAI.
Other helpful resources
Study data came from the Center for Health Statistics at Washington state's Department of Health.