Addictions, Drug & Alcohol Institute
New Report & Webinar: Unmet Needs, Complex Motivations, and Ideal Care for People Using Fentanyl in WA State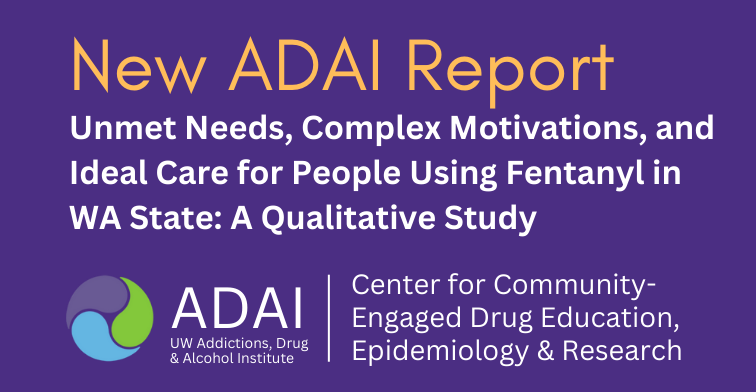 In Fall 2022, the CEDEER Team conducted interviews with 30 WA State syringe services participants who use fentanyl. The purpose of these interviews was to better understand people's motivations for using fentanyl and what ideal care would look like for them.
What did we learn?
There was a rapid change in the drug supply from heroin to fentanyl and this had a substantial impact on the people we spoke with.
Almost all interview participants smoked fentanyl, and a few also injected it. Many interview respondents had previously injected heroin and switched to smoking fentanyl.
Participants reported complex motivations for using fentanyl including physical pain, mental health issues, trauma, homelessness, opioid use disorder, and easy availability of fentanyl.
The majority (70%) of participants were interested in reducing or stopping their fentanyl use. However, people expressed many barriers to doing so, including unavailable services, being unaware of what might work, fear of withdrawal, and challenges accessing and staying on medications like buprenorphine or methadone.
Want to learn more?