Addictions, Drug & Alcohol Institute
New from ADAI: Provider Perspectives on Medication Treatment for OUD in Adolescents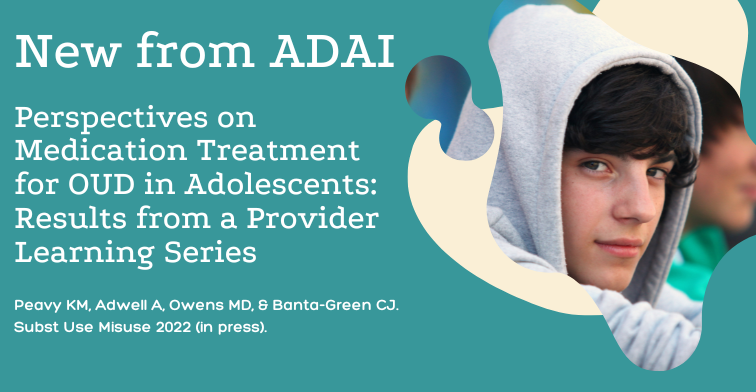 Despite recent surges in adolescent opioid use disorder (OUD), teens are less likely to enter treatment compared to adults, and are rarely in treatment settings that offer evidence-based medication treatment (methadone, buprenorphine, and naltrexone).
Buprenorphine is the only medication approved for people under 18 (aged 16 and older) and methadone requires written parental consent for people under 18. However, despite these restrictions, medications for opioid use disorder (MOUD) are effective for teens and are the recommended treatment by experts and national health organizations.
Given the fact these medications are recommended for youth, what explains the lack of SUD treatment facilities offering MOUD to adolescents and the shortage of professional helpers available and willing to serve this population?
Washington's State Opioid Response (SOR) funding provided the platform for a four-part adolescent MOUD learning series for treatment providers designed to disseminate information on adolescent MOUD and gather information in return on providers' perceived barriers to care and opinions about and experiences with MOUD (information gathered via survey).
This new paper from ADAI researchers K. Michelle Peavy (who has since changed organizations), Mandy Owens, and Caleb Banta-Green, as well as Addy Adwell from Harborview Medical Center, describes the adolescent MOUD learning series and survey results, which found that a higher percentage of prescriber participants endorsed support for MOUD for adolescents than nonprescriber participants. Lack of adjunctive support services (i.e., social work, mental health) were cited as the highest barriers to providing this care.
Information gleaned from this series and survey helped inform the next phase of training efforts: the development of a community-informed and interactive Learning Collaborative aimed at improving availability and quality of MOUD services for adolescents. The researchers also hope this initial inquiry will lead to research with more providers and motivate health care and treatment organizations to address the barriers to providing MOUD to improve the lives of adolescents with OUD, support recovery, and reduce mortality.
Citation: Peavy KM, Adwell A, Owens MD, Banta-Green CJ. Perspectives on medication treatment for opioid use disorder in adolescents: Results from a provider learning series. Substance Use & Misuse 2022 (in press). doi: 10.1080/10826084.2022.2136493.
*Need help accessing this paper? Contact Meg Brunner, MLIS: meganw@uw.edu