Addictions, Drug & Alcohol Institute
New from ADAI: Cannabis Industry Marketing Violations in WA, 2014-2019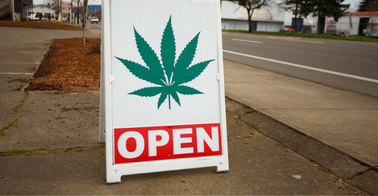 There's a conflict between prevention and profit when it comes to marketing by the cannabis industry in Washington State, say ADAI researchers Beatriz Carlini, PhD, Sharon Garrett, MPH, MA, and Caislin Firth, PhD, MPH, and Rutgers researcher Ilana Pinsky, PhD. Engaging community members in monitoring for marketing rule violations could help keep that conflict in check.
The team recently published a paper in the Journal of Studies on Alcohol and Drugs reporting on their analysis of cannabis marketing violations in Washington State between 2014-2019.
In Washington State, retail cannabis sites have been operating since July 2014 and cannabis-related paid advertisements have been pervasive ever since. Research has found that youth exposure to cannabis advertising is high and is associated with use or intention to use in the future, making marketing practices an important prevention consideration.
Community members have been playing an important role in identifying and reporting potential cannabis advertising violations to the Washington State Liquor and Cannabis Board (WSLCB), and community reports could be an effective way for increasing industry compliance and protecting youth from marketing exposure.
For this study, the team examined public records of Washington State cannabis industry marketing and advertisement violations issued by WSLCB from 2014-2019, looking at the most frequent type of violations, who reported them, and whether types of violations varied in content and nature depending on how they were identified.
Analysis revealed that most reported marketing violations were happening in public spaces, like on sidewalks and billboards or on social media. Community members mainly identified violations related to ad content and business practices that could potentially appeal to youth.
By contrast, WSCLB officers were more likely to notice violations of ad size, location, or type, likely identified during routine site visits to the businesses. Both WSLCB and community members noticed roughly the same number of missing minimum age and/or health warnings required on cannabis products.
This study illustrates the push and pull of prevention vs. profit, where the industry tries to push marketing regulation boundaries while community members consistently help identify violations and uphold accountability.
Increasing community member participation in this type of reporting through policies that incentivize public complaints and encourage civil engagement-focused watchdog organizations could help protect youth from industry targeting.
Citation: Carlini BH, Garrett S, Firth C, Pinksy I. Cannabis industry marketing violations in Washington State, 2014-2019. Journal of Studies on Alcohol & Drugs 2022;83:18-26.