Addictions, Drug & Alcohol Institute
New ADAI Research: Cannabis Store Location and Advertising Influences Use by Oregon Youth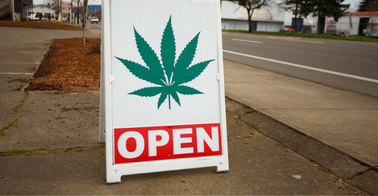 This new paper in Health and Place, led by Caislin Firth and in collaboration with the Oregon Health Authority, looks at the impact of retail cannabis store location and exposure to cannabis advertising on youth cannabis use. The project was partially funded by the National Institutes of Drug Abuse awarded to co-author Julia Dilley and the Horowitz Foundation for Social Policy, awarded to Caislin Firth.
We know that environment plays a key role in teen substance use, including through exposure to both retail outlets and advertising. Specific to Oregon, previous studies have found that county-level density of cannabis retailers in the state was associated with youth cannabis use, and more than half of Oregon's 8th and 11th graders have seen cannabis ads within the previous month.
However, Firth and colleagues were curious about the role proximity of cannabis retailers to home and school, as well as exposure to cannabis advertising, played in teen use behavior.
The team looked at existing anonymous survey data from over 24,000 Oregon 8th and 11th graders, looking specifically at five cannabis-related outcomes: four modes of use (smoking, dabbing, eating, vaping) and perceived harms of use, which is a risk factor for future cannabis use.
They also developed two proximity-based measures – for school and community – and one advertising measure to capture different aspects of the Oregon retail cannabis environment in 2017.
Firth and colleagues found that different aspects of the cannabis retail environment were relevant at different grades:
8th graders were impacted most by community advertising. The national average age for starting cannabis use is 10th grade, yet Oregon 8th graders in this study were more likely to smoke, use edibles, dab, or vape cannabis if they had seen storefront advertising in the past month, while living or going to school near a cannabis shop did not appear to be a contributing factor.
11th graders, on the other hand, were more influenced by proximity of a cannabis retail shop to their school. 11th graders who attended high school within 1 mile of a cannabis retailer were more likely to use edibles, dab, or smoke cannabis, while cannabis advertising was not associated with smoking or perceived harm of use.
These findings have direct implications for policy makers as they develop rules for where cannabis retailers operate and how they are allowed to advertise.
Citation: Firth CL, Carlini B, Dilley J, Guttmannova K, Hajat A. Retail cannabis environment and adolescent use: The role of advertising and retailers near home and school. Health and Place 2022;75:102795.