Addictions, Drug & Alcohol Institute
New ADAI Report: The Status of MOUD Provision in Washington State Jails, 2021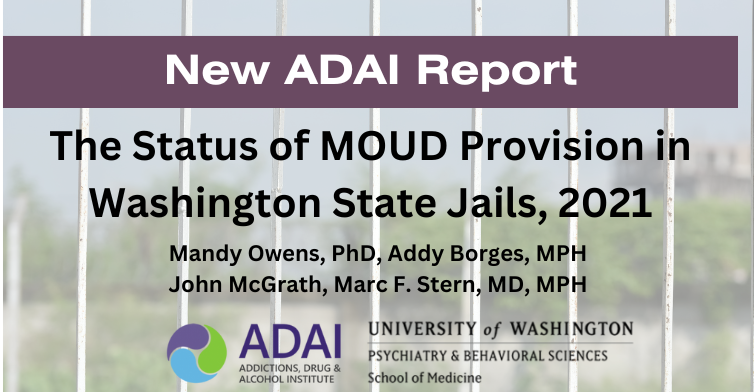 ADAI has a new report out, authored by Mandy Owens, PhD (UW ADAI), Addy Borges, MPH (UW Dept of Child, Family, and Population Health Nursing), John McGrath (WA Assoc. of Sheriffs and Police Chiefs), and Marc F. Stern, MD, MPH (UW Dept of Health Systems and Population Health).
Individuals releasing from incarceration are at an increased risk of death, largely due to risk of opioid overdose. Buprenorphine and methadone reduce the risk of opioid overdose and are essential to reduce the risk of death for people releasing from incarceration.
In 2021, a survey was conducted with Washington State jails to better understand the current use of medications for opioid use disorder (MOUD) and inform funding efforts. A survey was sent out to all WA State jails through the Criminal Justice Training Commission, and 82% (47/57) of jails participated, representing 98% of the total jail population. Interviews were conducted in June 2021-February 2022.
The report, The Status of Medications for Opioid Use Disorder (MOUD) Provision in Washington State Jails, 2021, describes the findings from those surveys (the numbers below have likely changed since then, and reflect a point in time).
Findings:
Withdrawal management

92% screen for opioid withdrawal at booking
62% used buprenorphine for opioid withdrawal management, 32% used other prescribed medications, 3% used over the counter medications and water only.

Buprenorphine

66% of jails will start someone on buprenorphine
96% will continue buprenorphine for all residents, and 2% for some residents.

Methadone

No jails will start someone on methadone.
53% of jails report that they continue methadone for all residents, 17% will continue for some residents.

Naltrexone (aka Vivitrol)

60% of jails will continue naltrexone for all residents, and 2% for some residents.
34% will start someone on naltrexone.
Additional efforts are needed to provide MOUD in jails, including increased funding for staff and medications, administrative and legal support.
Learn more about jails and MOUD at LearnAboutTreatment.org.
For questions about this report, contact Dr. Mandy Owens, mandyo@uw.edu