Addictions, Drug & Alcohol Institute
ADAI Report: Methadone: An Old Medication with Untapped Potential
Learn about methadone, a medication long used in the U.S. as a treatment for opioid use disorder, in this new report, Methadone: An Old Medication with Untapped Potential, by ADAI research scientists K. Michelle Peavy, PhD and Caleb Banta-Green, PhD, MPH, MSW.
The report explains what methadone is and how it works, as well as the history of both methadone and opioid treatment programs (OTPs) in the United States.
The report also provides information about the impact of systemic racism on OTPs and both methadone and buprenorphine prescribing in the U.S. Racism and associated stigma against OTPs have affected how and when people of color access treatment for opioid use disorder.
History of Methadone and OTPs in the US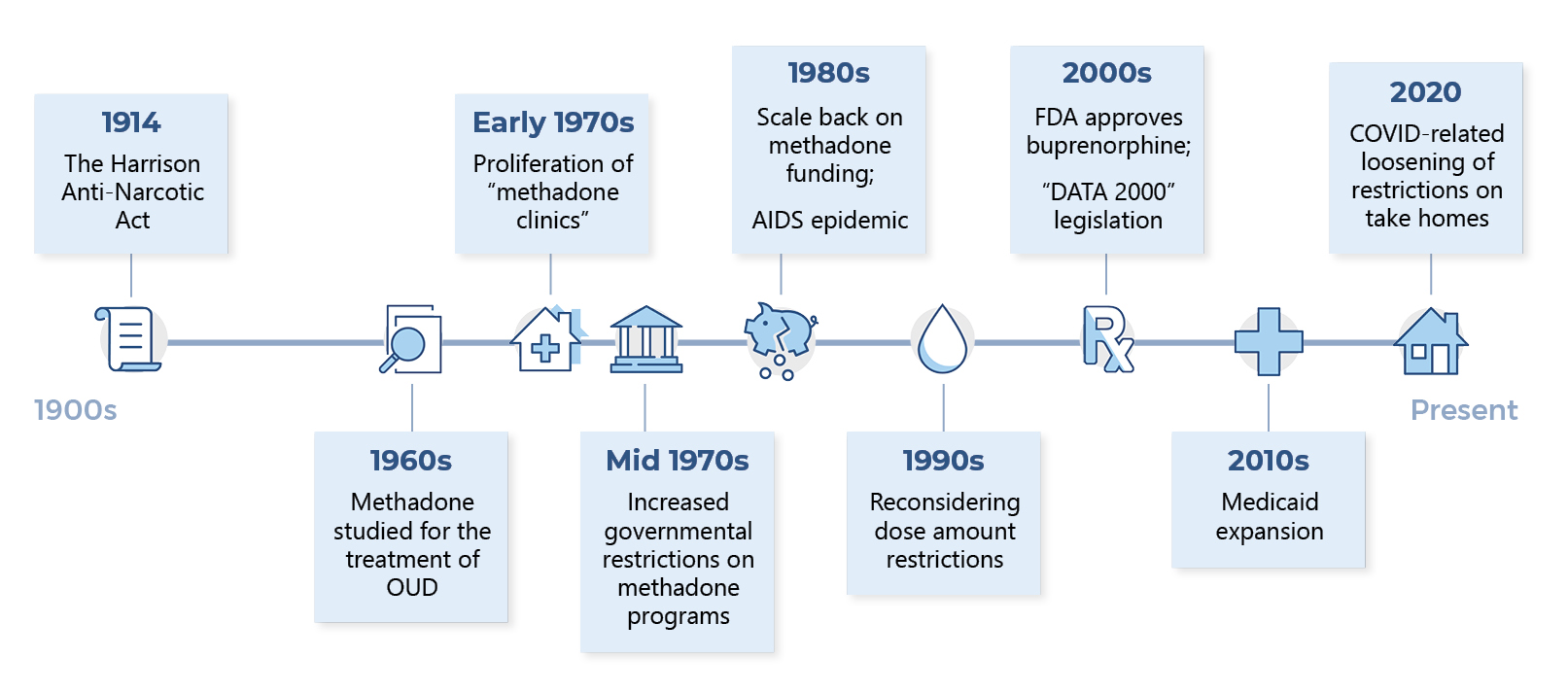 Finally, the report explores new opportunities for methadone and OTPs, including the potential for continued loosening of restrictions on a historically strict and over-regulated environment. In addition to policy changes, innovative strategies for meeting the needs of people with opioid use disorder are considered: mobile medication units, increased use of telehealth, and more.
Want to learn more about the information presented in this report? View the webinar hosted by report author K. Michelle Peavy, PhD. Watch here!
Citation: Peavy K M, Banta-Green C. Methadone: An Old Medication with Untapped Potential. Seattle, WA: Addictions, Drug & Alcohol Institute, Department of Psychiatry & Behavioral Sciences, University of Washington, April 2022.
We would like to thank the following people for their insights in shaping this report: Andy Saxon, MD; Eric Strain, MD; Jessica Blose, LMHC, SUDP; Paul Grekin, MD; Ron Jackson, MSW; and Sara Multanen-Karr, SUDP. This report was produced under contract for the Washington State Division of Behavioral Health and Recovery; the findings and opinions are those of the authors and not WA DBHR.