Addictions, Drug & Alcohol Institute
New Article: Community-Based "Meds-First" Model of Care for Opioid Use Disorder Study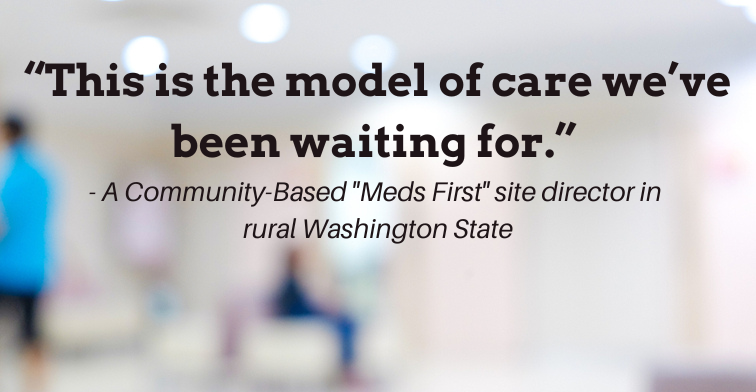 This paper, by ADAI Principal Research Scientist Caleb Banta-Green and colleagues, describes the Community-Based "Meds First" model of care for opioid use disorder treatment and an ongoing study.
The Meds First model of care is based on same-day (typically) access to buprenorphine; walk-in, non-appointment support with a nurse care manager and care navigator; no exclusions for poly-substance use; and no counseling mandates (but services readily available).
The study was implemented at six syringe services programs/harm reduction programs across WA State. Given the rapidly escalating rates of illicit fentanyl use, opioid use disorder, and fatal overdoses, there is potentially a great need to scale up this model of care.
This paper describes the rationale, care model, staffing, and settings for the approach. Final outcomes data for the 833 participants enrolled in research will be available late in 2022 with a research paper planned for early 2023.
For a broad overview of the low barrier buprenorphine model of care, check out the LearnAboutTreatment.org Low-Barrier Buprenorphine page.
Citation: Banta-Green CJ, et al. The Community-Based Medication-First program for opioid use disorder: a hybrid implementation study protocol of a rapid access to buprenorphine program in Washington State. Addiction Science & Clinical Practice 2022;17:34.