Addictions, Drug & Alcohol Institute
Kay Kelly Awarded FASD United Star of Justice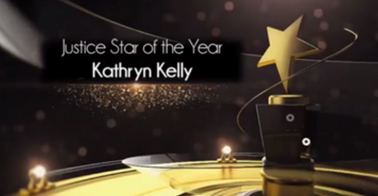 Kathryn (Kay) Kelly, Research Coordinator at ADAI's Fetal Alcohol & Drug Unit and Project Director of the FASD Legal Issues Resource Center, was recently honored by FASD United for her years of service to people with FASD.
At the annual FASD United Circle of Stars ceremony on December 3, 2021, Ms. Kelly was awarded the Justice Star, given to those who have dedicated themselves to ensuring fair treatment in the legal system for children and adults living with FASD.
In her acceptance speech, Ms. Kelly said, "Working on behalf of those with FASD who are in trouble with the law is not the effort of one, but the effort of us all, as each of us do what we can to bring about awareness of FASD in the juvenile and criminal courts, as well as in the corrections system. This work is critically important, as you all know, since a person with this disability can be profoundly affected by involvement in [the legal system]. Change, either for better or for worse, can be brought about by this contact, depending on whether or not FASD is recognized, and whether or not tailored FASD-informed services and supports are put in place."
Congratulations to Kay and thank you for your tireless advocacy on behalf of those with FASD!