Addictions, Drug & Alcohol Institute
Join the ADAI CERP Team: Seeking Full-Time Program Evaluator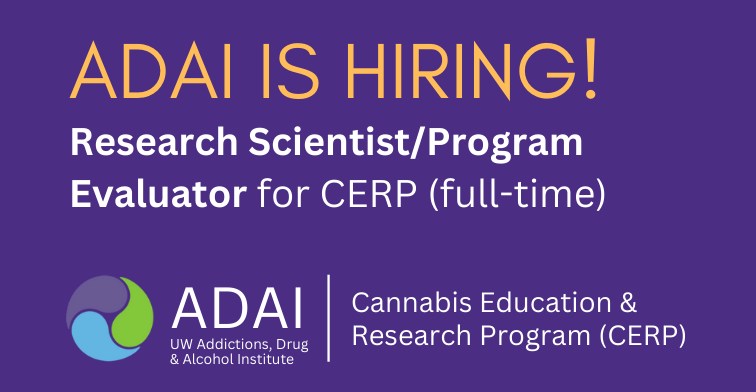 The Cannabis Education & Research Program (CERP) at the Addictions, Drug & Alcohol Institute (ADAI), which is partially funded by the WA State Dedicated Cannabis Fund for research at the UW (since 2015), is seeking a full-time Program Evaluator (official title: Research Scientist/Engineer) to support its work responding to emerging research and information needs of the community in the context of legalized cannabis.
ADAI CERP carries out and publishes results of intramural research; conducts scientific literature reviews on trending topics; develops research-based fact sheets, policy briefs, and trainings and fosters collaborative research opportunities with researchers at the University of Washington, Washington State University, state agencies, and other groups.
CERP is currently seeking a full-time Program Evaluator (official title: Research Scientist/Engineer) to join their team!
This person would assist CERP with:
developing, implementing, and writing program and intervention evaluations;
supporting the team with project development, implementation, and dissemination; and
supporting CERP information and dissemination projects like writing factsheets and other content for the LearnAboutCannabisWA.org website and other projects.
Qualifications include a Master's Degree in Public Health, Health Services, Social Work, or a related science and two year's of related work experience (equivalent education/experience can be substituted for these qualifications). Knowledge of cannabis policy and health impacts, particularly as they relate to cannabis users in Washington State, desired but not required!
CERP does amazing work that truly makes a difference in our communities and our state. We'd love to have you on our team!