Addictions, Drug & Alcohol Institute
Data & Statistics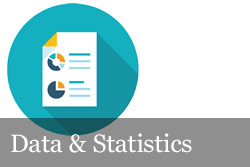 On this page, you'll find websites and other tools you can use to find data and statistics related to substance use in Washington State.
Got a resource to suggest? Email Meg Brunner at meganw@uw.edu.
Washington Websites
Washington State Data & Resources (ADAI)
Great for: Statewide or county-specific data on a variety of substance-related topics. Start here when looking for local data!
Washington State Opioid/Major Drug Interactive Data (ADAI)
Great for: Interactive charts/graphs tracking number/rate of overdose deaths, treatment admissions, opioid sales, and police evidence testing (for opioids and other drugs). Includes data about opiates, methamphetamine, marijuana, and other major drugs.
LearnAboutCannabisWA.org (ADAI)
Great for: Science-based but general-public-friendly information about marijuana, including some Washington statistics on adult and youth use.
Washington State Department of Health Data Dashboards (DOH)
Great for: Find data on HIV, marijuana and tobacco use, opioids (prescriptions and overdoses) and more.
King County Overdose Prevention and Response - Data Dashboards
Great for: King County-specific data about Overdose deaths (drug and alcohol poisoning deaths, by year/quarter and substance type) and Non-fatal overdoses (by month and location).
Ask HYS (Healthy Youth Survey) (DOH, WSLCB)
Great for: Substance- and risk-related statistics on Washington youth grades 6, 8, 10, 12.
Research & Data on Fatal Crashes, Traffic Safety (WA State Traffic Safety Commission)
Great for: Data related to impaired driving (alcohol, marijuana, other drugs); quarterly crash data for Washington or by county.
Washington Reports/Publications
National Data Resources
Monitoring the Future Study (MTF) (University of Michigan and NIDA)
Great for: National statistics on US youth substance use, attitudes, and risk behaviors.
Treatment Episode Data (Admissions/Discharges) (SAMHSA)
Great for: National data related to admissions and discharges from substance use disorder treatment.
National Survey on Drug Use and Health (NSDUH) (SAMHSA)
Great for: Data by population, nationwide, state, and metro regions about substance use patterns for Americans aged 12+.
Substance Abuse Facilities Data (NSSATS) (SAMHSA)
Great for: Census of all substance use disorder treatment facilities in the U.S., both public and private.
National Drug Early Warning System (UMD Center for Substance Abuse Research, NIDA)
Great for: Drug use trends, with a focus on emerging drugs and/or patterns of use.
CDC Data & Statistics
Great for: Snapshots of national statistics on variety of alcohol, tobacco, and other drug-related topics, plus access to more complex datasets for more extensive information gathering.
CDC Youth Risk Behavior Survey (YRBS)
Great for: Data on a wide variety of health-related risk behaviors, including substance use, from students in grades 9-12 (national, state, and large urban school districts).