Addictions, Drug & Alcohol Institute
Detailed Fentanyl Drug Testing Results for King County (WA Medical Examiner Samples)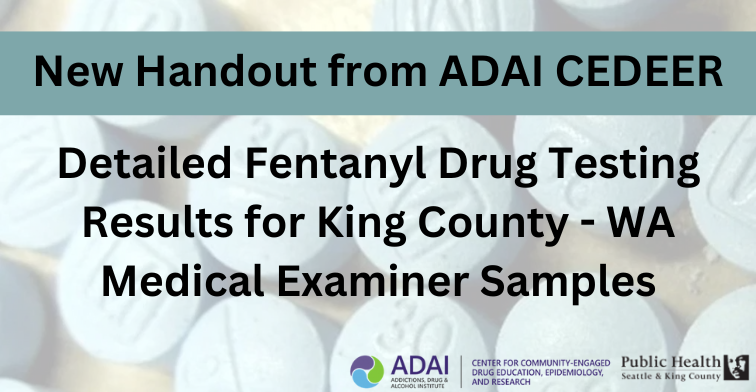 "Detailed fentanyl drug testing results for King County, WA Medical Examiner samples" is a new handout on the StopOverdose.org website with photos of drugs and detailed chemical analyses. Results show a broad range of fentanyl content and highly variable appearances.
In February 2023, the King County Medical Examiner sent 12 fentanyl samples to the Drug Enforcement Administration for further analysis. These samples were found at the scene of an overdose death and had tested positive for fentanyl using a fentanyl test strip. These data are for a single county in a short time period. They do not represent the wider drug market.
What did does detailed analysis of these samples show?
Among these 12 samples, fentanyl was in multiple forms (pill, powder, and rock) and multiple colors.
Samples that looked the same had different purities of fentanyl and mixes of other substances.
Powder and tablet products had a 2-fold range in purity. Rock products had a 4-fold range in purity.
These analyses confirm that you cannot tell what is in a drug or how strong it is by its appearance.
Resources
Learn more about fentanyl, naloxone, and treatment options.
LearnAboutTreatment.org – Education about the medications for opioid use disorder
Laced & Lethal – Education and information for youth about fentanyl
Talk Even If – Resources for parents to talk to their kids about fentanyl and overdose
Washington Recovery Help Line Medications for Opioid Use Disorder Locator Map