Addictions, Drug & Alcohol Institute
ADAI Virtual Training: Seeing & Interacting with Trauma – Sept 14 & 21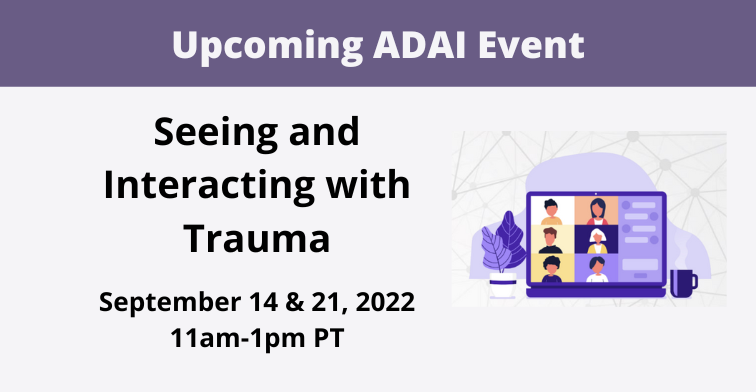 ADAI is hosting a 2-day training this September about trauma. REGISTER HERE. The two sessions build on each other and will provide attendees with the opportunity to:
Understand how common trauma is and how to recognize it.
Learn how our own experience and past trauma influence interactions with clients.
Learn skills to interact effectively with people who have experienced trauma.
Participants are encouraged to attend both sessions and are invited to sign up for an optional third session to review skills.
Sessions
Session 1: September 14: Seeing Trauma
What is trauma? How common is it?
What is a trauma response?
How can you spot a trauma response?
Session 2: September 21: Interacting with Trauma
How might your trauma intersect with someone else's?
How can you change your interactions with people with trauma?
What are the treatments for trauma? (A brief review)
Who Should Attend
Anyone in Washington State providing services to people with OUD. Examples of individuals and organizations to invite are providers, care managers, navigators, SUDPs/SUDPTs, pharmacists, those in the criminal legal system, FQHCs, health systems, BHAs, SUD programs, OTPs, SSPs, EDs, Inpatient, and anyone else you would like to attend from your organization or partnering organizations.
*These trainings are meant to be introductory and may not be appropriate for people with advanced training in trauma or PTSD treatments.
This webinar is funded by the State Opioid Response (SOR) grant from the Substance Abuse and Mental Health Services Administration (SAMHSA), and is provided by the University of Washington's Addictions, Drug & Alcohol Institute.