Addictions, Drug & Alcohol Institute
ADAI Presenting at 2023's virtual Overdose Prevention, Harm Reduction, & Treatment Series (WA Poison Center), August 29-31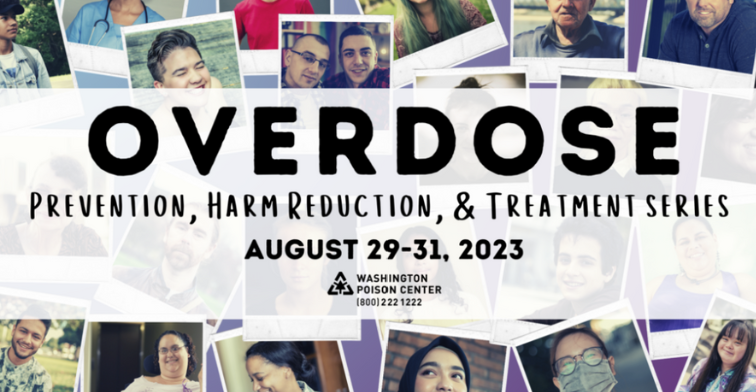 This year marks the 4th year the Washington Poison Center has held a multi-day virtual event focused on Overdose Prevention, Harm Reduction, & Treatment.
Through presentations from their own staff and other experts, including ADAI's Alison Newman and Teresa Winstead, the series explores unintentional and intentional factors that can lead to overdose, how to respond to different overdose situations, how to prevent and reduce harm from overdose, and how to access resources and treatment in the state of Washington.
The goal of this always-informative, compassionate, and educational series is to open dialogue, de-stigmatize overdose and substance use, and make sure everyone is aware of the help available in our communities.
Sessions this year will cover topics like:
LGBTQ+ patient care and common drugs of abuse in the LGBTQ+ community
Kratom, ibogaine, club drugs, magic mushrooms, and other substances
Harm reduction strategies for people who use stimulants
Buprenorphine and other medications for opioid use disorder
Teen mental health and suicidality
Naloxone in community settings
Acetaminophen overdose
Accidental overdose in older adults
Herbal abortifacients
Systemic racism
Best practices in the use of social media for prevention & harm reduction
Drug trafficking and the influence of money on substance use, illicit drugs, and medications
DON'T MISS! On Wednesday, August 30 (1:30-2:30pm PT), ADAI's Alison Newman, MPH, and Teresa Winstead, PhD, MA will be presenting on their new report, Unmet Needs, Complex Motivations, and Ideal Care for People Using Fentanyl in Washington State. Find out what 30 WA State syringe services participants who use fentanyl said about their motivations for using fentanyl and what ideal care would look like for them.
Participants who attend at minimum of 5 live or recorded events can receive a Certificate of Attendance.