Addictions, Drug & Alcohol Institute
ADAI Lunch & Learn: Screening & Treating Cannabis Use Disorder in Primary Care (Dec. 6, 12pm PT)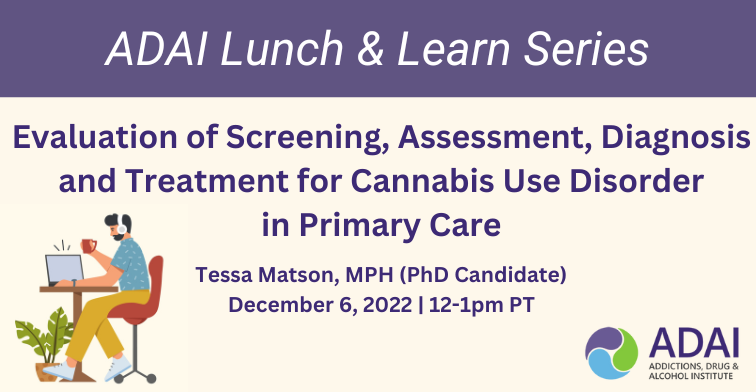 Join ADAI and presenter Tessa Matson, MPH (PhD Candidate), UW School of Public Health, for our December Lunch & Learn session:
Evaluation of Screening, Assessment, Diagnosis and Treatment for Cannabis Use Disorder in Primary Care
December 6, 2022
12-1pm PT
Register here
Nearly 44 million people use cannabis in the past year, and of those, 21% use cannabis daily. Frequent cannabis use increases risk of developing a cannabis use disorder (CUD), a problematic pattern of cannabis use leading to clinically significant impairment and distress. Primary care providers are ideally positioned to identify cannabis use and use disorders, provide brief interventions, and guide patients to treatment. However, CUD is under-recognized and undertreated in primary care settings. One key barrier is a lack of validated screening and assessment tools that are feasible and appropriate to use in primary care. This presentation will address the need for validated cannabis measures that perform equally well across sociodemographic subgroups and describe potential bias in current diagnosing and treatment practices.