Addictions, Drug & Alcohol Institute
ADAI Lunch & Learn: Promoting Equitable Access: How to Make Clinical Care and Research Inclusive of People with Disabilities (Oct 25, 12pm PT)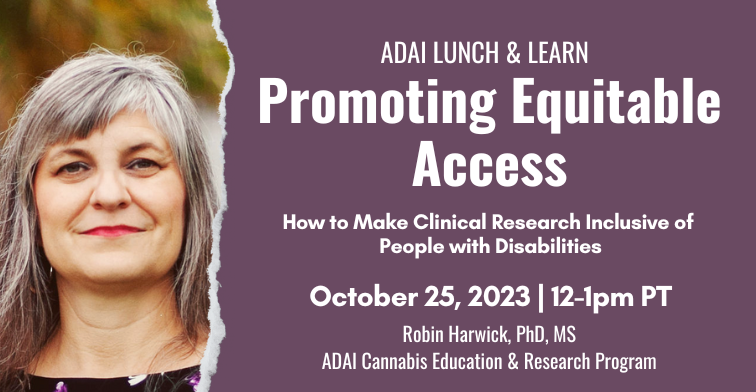 Join us for our next Lunch & Learn webinar, October 25, 2023 (12-1pm PT) featuring ADAI Research Scientist Robin Harwick, PhD, MS!
About 42.5 million people in the US have a disability and yet many clinicians and researchers do not consider disability inclusion in their work. This can lead to people with disabilities being:
Excluded from research studies
Not receiving the care they need
Being exited from programs or studies because of misunderstandings
In this talk, Robin Harwick, PhD, MS, a disability inclusion expert, will discuss how to make your clinical practice and research more inclusive of people with visible and "hidden" disabilities, including practical strategies for:
Engaging people with disabilities in research and treatment
Making accommodations
Creating accessible materials
This talk is essential for clinicians and researchers who want to ensure that their work is inclusive of and accessible to everyone.