63% of participants reported that they

use TARGET

;
22% know of TARGET but do not use it;
12.6% checked "other" and specified that they may not personally use TARGET but that someone in their program or management does. [more about the survey]
With the transition from Regional Support Networks (RSNs) to Behavioral Health Organizations (BHOs) on April 1, 2016, providers who are not a part of the Fee-for-Service (FFS) program are no longer required to use TARGET. Tribal programs who provide Substance Use Disorder (SUD) treatment as well as providers who have a direct contract with the Division of Behavioral Health & Recovery (DBHR) for the FFS program to provide SUD Treatment for American Indians and Alaska Natives (AI/AN) are still required to use TARGET as the system for inputting client treatment data.

The is a web-based management and reporting system for client substance use disorder (SUD) treatment services provided by approximately 525 reporting agencies throughout the state. Users include county governments, tribes, and non-profit organizations that provide DBHR client services. TARGET web site: https://www.dshs.wa.gov/bha/division-behavioral-health-and-recovery/target
Timely and accurate TARGET data entry reflects true client services provision and client retention in treatment, helps to ensure appropriate reimbursement, AND supports clients toward their treatment and recovery goals.

TARGET is a crucial element for success in SUD treatment retention. The Substance Use Disorder Treatment "Wheel of Success", a training tool developed by Patty Karvel and Shelli Young of Snohomish County Human Services Administration, illustrates the connections between Outreach, Outpatient Treatment and Case Management Services; Utilization of TARGET and Reports; Client Retention Rates; and Full Cost Reimbursement. Each "gear" in the wheel relates to all the others, making the whole wheel turn smoothly (or not), illustrating the concept that success results from coordinated effort.
within your organization from those who already use TARGET.
with your questions and training needs: .
that are not billable, and either enter into TARGET or request data entry by your designated TARGET data entry person.
to use for recording all your client contacts or services (see example).
to make it a habit (at least once a week, the same day each week).
All of the reports in TARGET, with the exception of three, are run in the same fashion:
Move the mouse pointer over the Reports menu, then click on the report category that contains the report you need.
Enter a date in both the start and end date fields.
Apply any filters that may be desired.
Click on the name of the report you wish to run.
In a few minutes time, the report will be displayed on your screen.
, display either the milestone or activity information entered into TARGET or the open admissions or assessments. D&C reports are the only reports to list client names. We're going to focus here on the C3 Active Caseload report, the one most likely to be used to track client retention.
: This report lists all admissions open as of the start date. This report can be used to look at counselor case load and to make sure that all discharges are entered in a timely manner.
: Unlike other reports that use a date range, this report (and the C5) gives all admissions open as of the start date. Enter the date that you wish to look at in the Start Date field. Enter the same date in the End Date field. Set any desired filters. Click on the report name.
:
Counselor Staff ID -- From the Counselor Staff ID in the admission
Name -- Client name
Age -- Client age at admission
Sex
Entry Referral
Admit Date
Funding Info -- Funding in effect at the date of report
XIX -- Indicates if the client had Title XIX at the date of report
Primary Substance
-- Last treatment activity (group or individual) in which the client attended. Excused or No Show is not included.
-- Today's date minus the Last Activity Attended date.

: Counselor Staff ID, Days Since Last Activity
: Yes
:
Since this report generates results based on the Start Date that is chosen the End Date is not used for calculating results. It is recommended that the same date be used for both Start and End dates to avoid confusion.
County level users can select any one agency. The report will automatically be filtered for the County Community Services fund source and for the appropriate governing county.
Access:
Server:
Agencies
County
RA


Yes
Yes
Yes

Agencies
County
RA
TARGET
Report
Report
Scope: Admission, Assessment, Discharge
Duplicate, Unduplicated
Agency (for county staff and RAs)
Entry Referral
Discharge Type
Exit Referral or Other Services Referral
Governing County

Demographics: Gender
Start Birth Date / End Birth Date
Spanish/Hispanic
Ethnicity/Race
English Speaking Ability
English Reading Ability
Disability
Substance Abuse
Assessment Priority Population

Funding: Title XIX
Fund Source
Contract Type
Modality
State Special Project
County Special Project
Agency Special Project
Client/Staff: Staff
Admission Staff (D4 Only)
Support Activity Type (C7 Only)
Client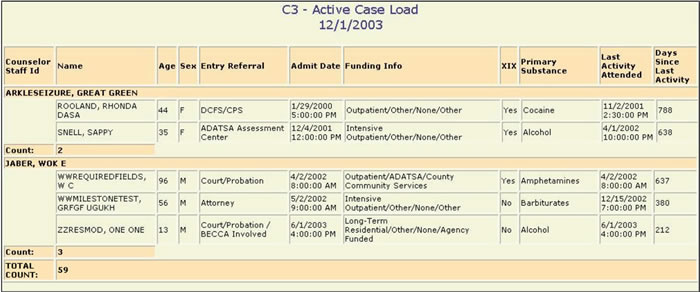 TARGET Help Desk: 888-461-8898 (for any/all questions about TARGET)
Secure Access WA: https://secureaccess.wa.gov/ (for access to TARGET)

TARGET Forms and Documentation
SCOPE -- web-based query and reporting services for SUD and mental health professionals in WA.