Practice incorporating just 1 or 2 MI principles a week.
Use open-ended questions instead of yes/no questions.
Expect and honor resistance.
Encourage clients to talk about what they feel is most important to them and explain how treatment can help.
Summarize clients' needs and concerns so they know they have been heard.
Point out discrepanices to show the client how they seem to want change and not want it at the same time.
Find and register for training on MI from the Northwest Addiction Technology Transfer Center.
(Adapted from NIATx.)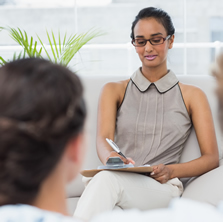 is a counseling approach that facilitates and engages a person's intrinsic motivation in order to change behavior. It is a goal-oriented, client-centered counseling style that elicits behavior change by helping clients explore and resolve ambivalence. The examination and resolution of ambivalence is a central purpose, and the counselor is intentionally directive in pursuing that goal, often by conscious or unconscious weighing of pros and cons of change vs. not changing3.
MI recognizes that clients approach counseling at different levels of readiness to change their behavior1. The main goals of MI are to engage clients, elicit change talk, and evoke motivation to make positive changes from the client.
Basic therapist techniques in MI include:
Note: The "Talking to Clients" training module in this toolkit contains a section with more information about using motivational interviewing techniques with clients and can be helpful for both counselors and front desk staff -- anyone who interacts with clients regularly at your treatment agency.
The efficacy of MI in substance use disorder treatment is well documented4,5. Furthermore, MI in a scientific setting outperforms traditional advice giving in the treatment of a broad range of behavioral problems5.
Even brief MI is effective and can increase client engagement and retention early in treatment4,5, although more than one encounter with the client can increase MI's effectiveness4. Time-limited therapies have been specifically developed for substance abuse treatment, including Motivational Enhancement Therapy6. MI is recommended for both individual and group treatment7.

The Center for Drug Free Living (now Aspire Health Partners) in Orlando, FL increased continuation rates to the fourth session by 27% using MI-based approaches. They had counselors make audio or videotapes of sessions so they could review and discuss the use of MI techniques in staff meetings.

Addiction Research and Treatment Services in Denver, CO increased continuation rates through the first 30 days of treatment for their opioid maintenance outpatient population from 79% to 87% in a 3 month period. They asked clinicians to focus on using MI techniques and strategies when scheduling the second session. For more information, see the ARTS MI Competencies and their business case (from NIATx).


Northwest Addiction Technology Transfer Center (for trainings on MI): The NWATTC, now located at the Alcohol & Drug Abuse Institute at the University of Washington, offers training for providers and organizations in Washington, Oregon, Alaska, and Idaho on using motivational interviewing with individuals and in groups. See Trainings & Events page for upcoming MI events. NEW!
Tour of Motivational Interviewing (): This free online training from the Mid-America Addiction Technology Transfer Center (ATTC) is a 4-hour course in MI that takes the learner on a tour of the essential skills used to strengthen an individual's motivation for behavior change. NEW!
NIATx Resources on Motivational Interviewing
See "Use MI During Treatment" and "Use the Spirit of MI During the First Contact." Includes stories about successful implementation at real treatment agencies, lessons learned, tracking measures, action steps, and more.  
NIDA/SAMHSA-ATTC Blending Team Product: Motivational Interviewing CME/CE and Patient Simulation
This package of an online training and interactive patient simulation module was designed to provide practical guidance for physicians, nurses, and other clinicians in effective MI techniques to elicit health risk behavior information from patients. Physicians and nurses can earn 1.5 hours of AMA or ANCC continuing education credits; other providers can use the "unaccredited module" to obtain the same training.
Some Examples of Motivational Interviewing Techniques in Action

MINT: Excellence in Motivational Interviewing
The Motivational Interviewing Network of Trainers (MINT) is an international organization of trainers in MI. MINT's mission is to promote good practice in the use, research, and training of MI. This site includes a calendar of upcoming events and trainings, a blog written by one of the founders of MI (Stephen Rollnick), and a selection of MI resources, including materials for training, assessment and coding, research articles, and manuals.
Enhancing Motivation for Change in Substance Abuse Treatment (TIP 35) (Substance Abuse and Mental Health Services Administration (SAMHSA))
This guide helps clinicians influence the change process in their clients by incorporating motivational interventions into substance use disorder treatment programs. 
Motivational Interviewing Glossary & Factsheet (on Scribd) by Kathleen Sciacca, MA, MI trainer
Provides a comprehensive overview of the practice and terminology of MI, including definitions of terms, associated terms, key elements of MI practice, and more.
Stephen Rollnick's official web site
Stephen Rollnick is a co-founder of Motivational Interviewing. He provides consultancy and training on the subjects of motivation, change and motivational interviewing. He is the co-author of Motivational Interviewing: Helping People Change (Miller and Rollnick, 1991; 2001 & 2012), Health Behavior Change: A Guide for Practitioners (Rollnick, Mason & Butler, 1999 & 2010) and Motivational Interviewing in Health Care: Helping Patients Change Behavior (Rollnick, Miller & Butler, 2008).
Miller WR, Rollnick S. Motivational Interviewing (3rd ed). New York: Guilford Press, 2012.
Rogers C. On Becoming a Person: A Therapist's View of Psychotherapy. London: Constable, 1961.
Ajzen I, Fishbein M. Understanding Attitudes and Predicting Social Behavior. Englewood Cliffs, NJ: Prentice-Hall, 1980.
Vasilaki EI, Hosier SG, Cow WM. The efficacy of motivational interviewing as a brief intervention for excessive drinking: A meta-analytic review. Alcohol & Alcoholism 2006;41(3):328-335. [free online]
Rubak S, Sanbaek A, Lauritzen T, Christensen B. Motivational interviewing: A systematic review and meta-analysis. British Journal of General Practice 2005;55:305-312. [free online]
Miller WR, Zweben A, DiClemente CC, Rychtarik RG. Motivational Enhancement Therapy Manual. Washington DC, National Institute on Alcohol Abuse and Alcoholism (NIAAA), 1992.
Wagner CC, Ingersoll KS, et al. Motivational Interviewing in Groups. New York: Guilford Press, 2013.