Home | | |
This project, conducted at the University of Washington Alcohol & Drug Abuse Institute and funded by the Washington State Office of the Attorney General, aims to address gaps in science-based training and education in the area of chronic pain management and medicinal cannabis use.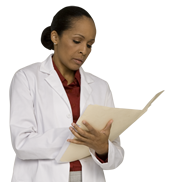 Developed for health professionals, including physicians, nurses, osteopaths, pharmacists, and physician assistants, this training presents current information on the use of medicinal cannabis for the treatment of various conditions, with a focus on chronic pain.
The first module is a basic primer on the mechanism of action of medicinal cannabis, its medical uses, and Washington State law. The second module focuses on the best clinical practices associated with the recommendation of medicinal cannabis. This training will also provide tools that may be useful to health care providers in their discussion with patients about the use of medicinal cannabis in the treatment of chronic pain.
Up to 2.0 AMA PRA Category 1 Credits™ are available for health care providers; see below for more information.
NEW!
Pharmacists who want CPE should view the complete activity then go to http://wspa.wcea.education/ on the WCEA website to take the CPE test. You will need to create an account once you are on the education portal and will need to supply your NABP e-Profile ID and birthdate (MMDD). You must successfully answer all of the test questions and submit an evaluation. After completing all of the requirements, you will be able to print your certificate and the CE will be automatically uploaded to the CPE Monitor. If you are a WSPA member, get a code to receive 40% off here: http://www.wsparx.org/default.asp?page=MemberCode.

Module 1
Medicinal Cannabis Education for Clinicians
At the end of this module, you will be able to:
Describe at least 3 unique characteristics of the endocannabinoid system.

Describe at least 3 potential therapeutic purposes and clinical indications of cannabis.

Identify the cannabis-based pharmaceuticals currently available in the US market and abroad.

Identify legal procedures in Washington state to recommend medicinal cannabis.


Launch the training (for CME, be sure to take the CME quiz at the end of the module)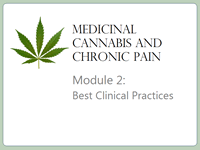 Module 2
Medicinal Cannabis – Best Practices

At the end of this module, you will be able to:
Determine which patients may benefit from using medicinal cannabis for chronic pain.

Identify side effects and risks associated with the use of medicinal cannabis.

Describe how to titrate medicinal cannabis to best manage chronic pain.

Describe benefits and risks of 4 methods of medicinal cannabis delivery.



Launch the training (for CME, be sure to take the CME quiz at the end of the module)

CME Overview
Release date: Jan. 1, 2015
Expiration date: Dec. 31, 2016
Length: 60 min. per module
Credits: 1.0 per module
CME processing fee: $40
The University of Washington School of Medicine is accredited by the Accreditation Council for Continuing Medical Education to provide continuing medical education for physicians.
The University of Washington School of Medicine designates this enduring material for a maximum of 2.0 AMA PRA Category 1 Credits™. Physicians should claim only the credit commensurate with the extent of their participation in the activity (each module is 1 credit).
This training may be completed for Continuing Medical Education (CME) credit. Those wishing to obtain CME credit will be asked to complete a short quiz at the end of each module and to complete an evaluation form. A passing score of 80% or better on each quiz is required. Your results will be made available for download immediately following the test along with the CME credit application. Health care providers are responsible for submitting these documents with their payment ($40) to the UW CME Office for processing and issuing of credits.

The following contributors have indicated that they have no financial relationships to disclose.

Awarded to
Beatriz Carlini, Ph.D., M.P.H.
Research Scientist, Alcohol & Drug Abuse Institute, UW

Content Experts
Gregory Carter, M.D.
Medical Director, St. Luke's Rehabilitation Institute
Clinical Instructor, MEDEX, UW

Roger Roffman, Ph.D.
Professor Emeritus, School of Social Work, UW

Reinaldo Naoto Takahashi, Ph.D.
Professor, Pharmacology Department, Federal University of Santa Catarina, Brazil

Contributors
Sharon Garrett, M.P.H., M.A.
Project Coordinator, Alcohol & Drug Abuse Institute, UW

Meg Brunner, M.L.I.S.
Information Specialist, Web Training Developer, Alcohol & Drug Abuse Institute, UW

Jennifer Velotta, M.N.P.L., C.D.P., C.P.P.
Outreach Specialist, Clearinghouse Coordinator, Alcohol & Drug Abuse Institute, UW

Kathy Edris, M.S.
Instructional Designer, Idesign Partners

Nancy Sutherland, M.L.S.
Director of Information Services, Alcohol & Drug Abuse Institute, UW

Additional Instructors
Maria Pettinato, R.N., Ph.D.
Associate Professor, College of Nursing, Seattle University

CME Chair
Dennis Donovan, Ph.D.
Professor, Psychiatry and Behavioral Sciences, University of Washington (UW)
Director, Alcohol & Drug Abuse Institute, UW